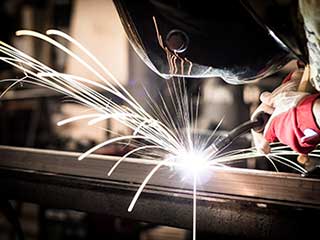 If you're planning on getting a new gate installed at your home or business, you'd probably be glad to know that you actually have more choices than you think. Our company can help you find the perfect swing, sliding or rolling gate for your specific needs. But we don't just install these systems, we can also repair everything from the opener to the intercom.
General Common Malfunctions
The majority of gate systems use an opener, very much like an automatic garage door. Therefore, they can experience similar issues, such as a worn out motor gear, fried electrical wires and all sorts of travel limit related problems. While the main difference between overhead doors is the material their panels are made of (which affects a lot of things), gate mechanisms differ a great deal in the way to operate, and therefore each of them has its own distinct malfunctions.
The Sliding Effect
A sliding gate is a great choice if you have a fairly small amount of available space outside your home or business. A swinging gate needs more space, as it moves outside or inside, as opposed to mechanisms of the sliding type, which simply move horizontally. Some of the more common problems with this type of gate are the opener's drive system, whether if its a belt or a chain, wearing out. The wheels also need to be periodically replaced. Our technicians can address both of these issues without delay.
The Popular Swinger
This is probably the most common type of gate, since it uses the simple mechanism that we're all pretty familiar with. With this type of mechanism, the problem often develops at the swing hinges. These are load bearing and therefore will most likely be susceptible to wear and tear damage, as well as rust. If they are mounted on wooden posts, the surrounding area may rot and dislodge the hinge. Of course, you can always count on our team for professional swing gate repair if those ever become necessary.
Fast Response Gate Repair Service
Our team at Garage Door Repair Puyallup understands the importance of urgency when it comes to gate related issues, which is why we always make an effort to come to our customers' aid as quickly as possible when the situation merits it. If its an emergency, or if you simply want to schedule a service appointment, there's no one better to call than our professional technicians. Contact us today for more information.
You can also count on us for: